February 20, 2019
Some things just feel like they're meant to be hard and miserable. As the date of departure closed in upon us there was a mountain of details and errands that had to be solved. We were supposed to move out of our apartment and transport all of our things to Marcelas parents (a two hour drive) and at the same time plan what to bring and not bring in our vehicle during which time we were working full-time jobs. Let's just say that it's been a very hectic and stressful period.
Just before we were moving
out we received the news that the cargo-ship that was taking our vehicle from Hamburg was delayed a couple of days. At first it caused some stress since we had to rebook flights, buses and overnight stays in various cities. As we were moving out however, we realized it was a blessing from above, there was so much to do, and as usual everything takes a lot more time than you would expect.
Speaking of blessings, we (including our vehicle) were blessed several times by members of Marcelas family, both by phone and IRL 🙂 I guess as most swedish people, I was definitely not raised with religion in mind. Of course there were Christmas, Easter and so on, but as a child it was just nice to eat candy and unwrap the presents. Consequently I didn't really know how to behave when we received our blessings. It didn't feel too strange though, I don't know any prayers, especially not in spanish but I guess we can use all the luck we can get. The only thing that was annoying to me was that Marcela wanted to be blessed by her grandmother in the middle of the night just before we were driving 8 hours to Germany. Tensions were high as it was, but it didn't take too long, we sort of stood in a circle by our car in the darkness while grandma blessed us. We were soon on our way.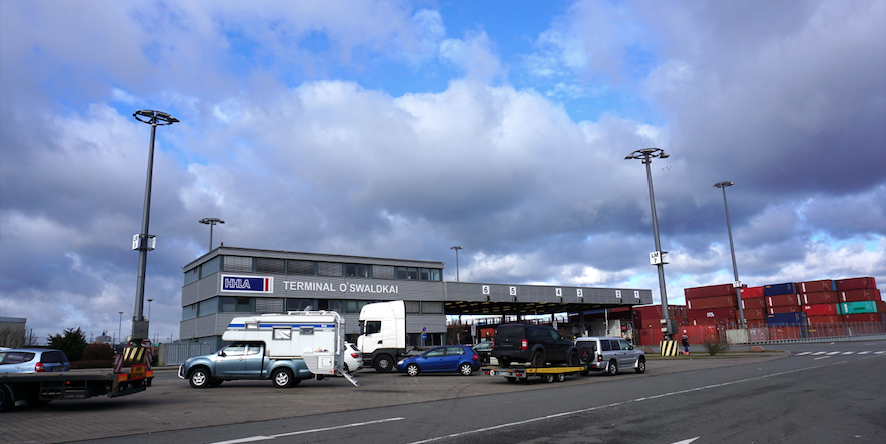 By this time the cargo-ship had been delayed another couple of days due to bad weather conditions, which is why we decided to drive all the way to Hamburg instead of taking the ferry. Part of the decision to drive all the way to Hamburg was also because taking the ferry would certainly mean some kind of Police checkpoint. Since we have studded tires (which is illegal in Germany) we would be stopped, fined and forced to remove all studs. Therefore we snuck over the German border in the middle of the night when most of the Polizei was sound asleep. Luckily we didn't see a single police, we didn't even notice we crossed the border until all the road signs were in German instead of Danish.
In the meantime we are homeless (which actually feels great), our camper is on it`s way across the atlantic and there's not really too much we can do except wait until we're reunited again. Now we`re spending about a week and a half with my parents in Portugal, to where they have recently moved.
We have been stressed out of our minds, argued and bickered with each other, but we have finally left Sweden (and our camper). Bye bye Sweden, well see you when we see you. We hope to see as many of you somewhere along the way as possible!
Next stop; Lisbon and then onward towards Canada and the cold.