December 4, 2018
My girlfriend and I met about two years ago. We had both travelled around a bit so it felt only natural that we would travel somewhere neither of us hadn't been before. Both of us had interest in Central- and South America, especially Marcela since she was born in Brazil, raised in Colombia and then moved to Sweden when she was about 10 years old. I had studied in Madrid for a year and know the language decently well and for me, America was the last big frontier travel-wise.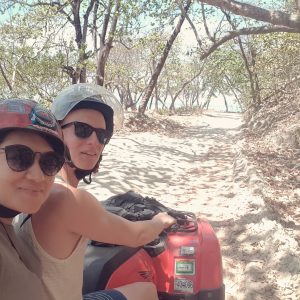 However, we decided to go to Costa Rica first for about a month in February 2018, it was a much needed trip since we both had finished our studies and were about a year in working in our new professions. We were tired.
We had already spoken a lot about maybe running a hostel somewhere in the world, an idea not very foreign to us since both of our families had been involved in the same business for a long time. Our discussions usually ended in us finding a place somewhere in Central- or South America.
We both really needed a break, so we went to Costa Rica. Costa Rica was a really tourist-friendly little country, perhaps a bit too much at times for our taste. But we went around getting our bearings. Stunning natural beauty, jungles, highland, volcanoes, rivers, all neatly packaged i a tiny space. We spent some time in the highlands, the Caribbean Coast and finally the Pacific Coast, a surfers paradise and if you went far enough, you could spend a whole day on a pristine beach without seeing almost anyone.
Needless to say, we really liked it. As we went back to Sweden again though, we felt it wasn't enough. We decided to pause our hectic lives in Sweden and go all in, planning for a trip that would take us through almost the whole of the Americas. Starting from Gothenburg, Sweden, we would buy us a Pick-up Truck and a camper, drive down to Germany and ship it to the port of Halifax, Nova Scotia, Canada. From there we would go west until we hit the Pacific Ocean and then turn our noses south and go all the way down to Chile, back up north again towards Uruguay… and hopefully a little longer than that, depending on our economy.
There was never any hesitation, this was our goal and it felt great even though none of us had done anything like this on our own before. We had no experience in campers and I'm about as technically gifted as a blanket!
Still, Marcela was clear about that any technical difficulties we might have was mainly my responsibility. It felt a bit daunting I must say, I thought "so many things are bound to go wrong on this trip". At the same time I rested assured that I could probably learn how this thing works, time is all it takes. 
Marcela has a knack for organizing and getting things in order, so she spent a lot of time looking into all the things we need to get our vehicle to another continent, spending hopefully more than a year there, and then back again. Of course, we help each other as much as we can. A big undertaking like this takes time to organize. So far, our plans have change many times already, but at its foundation, it remains the same. Spend a year or more in a little house on wheels, cruising the Americas. What could be better? A couple of months after we had gotten back from Costa Rica, we bought our Pick-up truck and a little house to go on the back – apparently it is called a camper. The time to figure out how this thing works had begun!