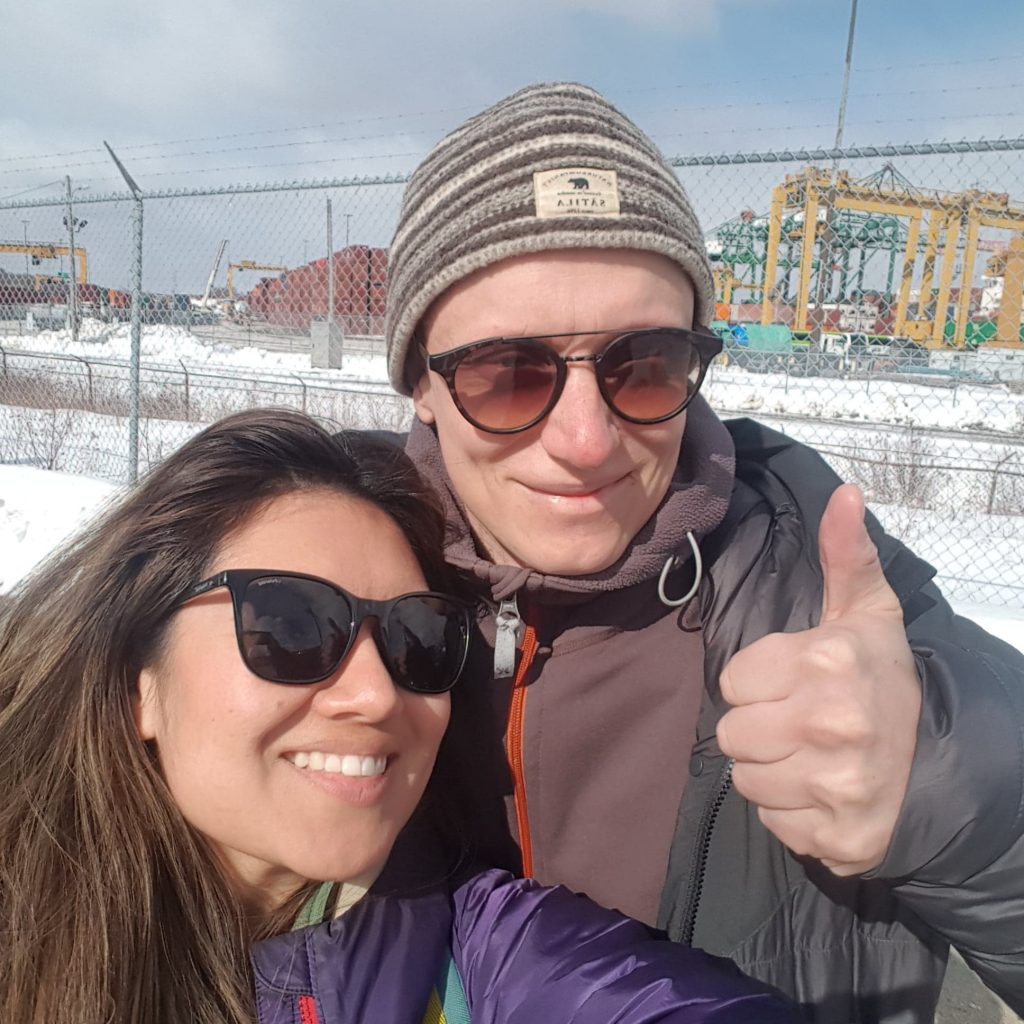 March 15, 2019
We arrived in Canada March 3rd, old neighbors and friends of my family reached out to a relative of theirs in Halifax. We got to stay at Tricia's house for a week and we instantly felt welcomed by this extremely nice lady.  There was nothing she wouldn't do if she could help. It was easier to adapt to the Canadian way with her house as basecamp. 
Finally, on March 7th, we assumed our camper had arrived from Europe and headed down to an adress across town in Dartmouth to a shipping company. There we payed them 150 CAD and got further instructions to go to the customs office with a very important piece of paper. There, the officer stamped the paper for us and sent us onward to the harbour to FINALLY get hands on our vehicle. As soon as we were closing in on the terminal we saw our camper inside of a checkpoint and immediately started screaming and laughing. We where there!
After about 30 minutes at the terminals office we were allowed to leave the Harbour. Everyone, every step of the way where so helpful, Canadians thus far have all been extremely nice and helpful, eager to know more about you and easily engage you in conversation. Some say however that this kind of generosity cannot be expected in every province 🙂 It remains to be seen. 
It took us two days to get everything in order with the camper, moving in all the equipment, clothing and shopping the extra supplies we needed before leaving. Now things where, at last, speeding up. We got a last batch of Tricias delicious banana, chocolate chip muffins along with a bunch of other things we had use for, and departed from Purcells Cove road. So much was given to us by this lady without never even needing to ask, we are very grateful. 
There has been a few stressful moments regarding mostly information from the shipping company and other insurance matters. Overall it was a very pain free experience, shipping a vehicle that far. 
Another thing we had been thinking about was the gas. It is crucial for us, keeping us warm and fed. What adapter did we need and this and that? it turned out our gas tank was easily refilled at a gas company for about 10 CAD. Needless to say, no immediate cause for alarm on that front. 
We are now nice and warm, the camper is all charged up and we left for the first leg down the Nova Scotian Coast on March 9th.